yesterday we had severe thunderstorms and tornado warnings and had a power outage. this is the blog post i wanted to have up yesterday for counting blessings.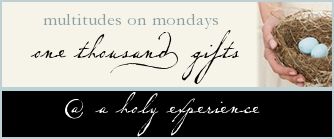 also linking with suzannah today
lt;center>
more grizzly bear than mama bear these last few days (weeks?!) and i tire of grouching all day. there seem a million viable excuses, but i tire of them as well. am i angry? tired? is there a difference in the sight of little boys?
today we have severe storming; our power goes out so we do, too--let someone else prepare our food, fast, and we drive down streets with trees broken and houses splintered. all i could see were people coming home to such damage. my heart wanted to break for lives unknown to me, their stories in books i'll probably never read.
our own street untouched by the wind's rage, though two streets over trees lie on power lines keeping us in dark. not even an upset trash can--this the only evidence today is any different for trash would normally be picked up by now. and inside this house we call it "disaster zone" but no branches gape in my walls...we call those three boys "tornadoes," yet all in one piece and mostly oblivious....me with stormy heart now calmed to see real storm, real damage, wishing to be a peaceful mist in my own home.
grateful for: (283-290)
husband who loves through the grouchy woman invading me; 3 boys who grace me with smiles and gripping hugs; power out-quiet! and respite from tv's noise, also, the invitation to play, be creative in getting along; him home to help and not out driving weathered roads; money enough to buy lunch and getting a break from darkening living room; the One who calms the storm and allows it to rage to calm my internal storm.
prayers for:
those in our neighborhood facing financial and emotional hardship in the days to come; safety for city workers dealing with felled trees and power lines; grace for those continuing without power.