i used to think the wanting was hard: the love that shone carat-colored on fingers, or the full-tight abdomen denied possible by doctor; the pottery barn home (tona's tastes were impeccable), or the desire for beige to stay beige, not mapping toddler discoveries. i still struggle with that wanting--it's all a game of mirrors, isn't it?--but i'm realizing that need is harder. and yet, it's also just the beginning.
to need is to proclaim, "i'm not enough," which begs for a Savior. saving becomes a love that shines through generations, crimson red, and the blessing of life because otherwise i'd never have survived motherhood at all. He is the eternal home which makes me feel this tension, trapped inside mud-skin and dirt-walls; He is the one writing on my own heart and mapping my struggles across redemption's journey. to want is to wait. to need is to Live grace in the already-not yet.
grace has about eaten me alive these last weeks (i don't mean that in the pesky mosquitoes of the south sense; i mean: in the same way i want to devour avery's chubby thighs and ringlets, i've been consuming grace and been completely undone in the process). moving is always hard, even when it's an adventure, and we've been on grace's hinge...waiting for paychecks, waiting for resolutions amidst hard circumstances, waiting for it to "just come together, dammit."
here. boxes are all unpacked. dinner's been managed (like mischief, even) every night. he has been home every night-oh, my love!- and kids have begun to call this home. my friends have danced the gospel fully for my family since we've arrived. mercy-notes wafting in casseroles delivered, in diapers purchased, and laughs-in-person. He weaves in and through us, and the needing has never been stronger. i have needed this love with skin on, this reliance on grace and others. my vision is righted, and i can't help but sing the lovely words:
O to grace how great a debtor
daily I'm constrained to be!
Let thy goodness, like a fetter,
bind my wandering heart to thee.
Prone to wander, Lord, I feel it,
prone to leave the God I love;
here's my heart, O take and seal it,
seal it for thy courts above.
today i join with Ann and the community again for the first time in a long time.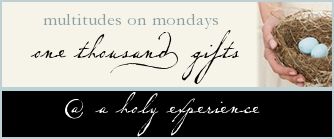 221. pantry stocked with staples upon our arrival
221. pot pie
222. poppy seed chicken
223. chicken chili
224. pizza
225. vegetable soup
226. potato soup
227. all these meals were delivered by loved ones to help our transition into our new home while we unpacked and had no kitchen, also for when he was away for training for a week. i don't think any of these ladies realized we had no money to even buy groceries, so to have these meals provided and hot and ready for us was beyond a blessing.
228. borrowed washing machines and the hours-long fellowship that followed. laundering has never been so fun or worthwhile, and i might be sad when we get our own again (!)
229. she is right.around.the.corner!!!
230. and our children will grow up for a while together. we're very excited to share this journey step by step
231. once a month prayer group
232. his job is going well so far, ropes being learned
233. my "job" seems easier than it has in a long while.
234. our huge backyard
235. and the balmy days we enjoyed last week to spend in it!
236. sleep routines returned to and an easy transition for the oldest two to sleep in their own room now
237. for the $40 here and the kroger gift card there.... they've gotten us through
238. for the humility to accept that he knows exactly where we are, and has provided JUST ENOUGH
239. that He is always enough
240. and His goodness binds my heart back to Him